Drupal as a social network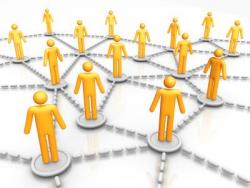 A social network to allow your customers to talk to each other and to you. They can discuss your products and services, they do it anyway. Don't let popular social networks leave you in the dark. Know what your clients talk about.
Try to figure out what your customers are talking about by inviting them in. This is the best way to discover their needs and frustrations.The drupal content management system does not only offer lots of functionality concerning content handling it also provides a lot of tools to administer your user base, to learn from it and to interact with it.
Functionality drupal offers (can be extended by drupal development): User registration, advanced roles and permissions, user profiles, user points, comments, forum, sharing, following, contact, groups, spaces, ...
Who are you?
By knowing who you are you will be directed to a page where we have displayed all our drupal services relevant to your professional identity.