Dropsolid diaries 2017-2018 - 2019 - Becoming the European open digital experience company
On:
Saturday, December 8, 2018 - 19:42
Dropsolid diaries 2017-2018-2019: Becoming the European Open Digital Experience Company

This longread is part of my Dropsolid Diaries series. The previous chapters can be found below:
Part 1 covers our startup days, which taught us about running a business, funding, hiring & training talent, sales and marketing.

Part 2 is all about the scale-up stage. It talks about how we improved our overall product development, growth, vision, mission, values, corporate structure, procedures and business units.
In part 3, I cover three exciting main storylines:
We found the right CTO in Nick Veenhof, who was the driving force behind expanding the Dropsolid cloud platform further.

We also moved towards structural net returns and overall profitability in 2018.

We laid out the foundation of Dropsolid as the Digital Experience Company for Europe: Dropsolid as a digital business partnr that guides mid-sized enterprises to digital freedom.
Finding great people. Finding our CTO.
In early 2016, we started looking for our Chief Technical Officer. It had become a challenge for me to juggle the positions of both CEO and CTO. Back then, we had a very lean management structure in place and a lot of employees. To give you an idea: there were only three managers for 50 people. This had come as a result of our fast growth, which you can read about in part 2.
As Dropsolid's CEO, I was responsible for hitting sales targets, marketing the company and deciding on the budget for 50 people, all whilst still trying to keep up to speed technically as the CTO. In the latter position, I had a small team of engineers working on the first version of our Dropsolid Platform. In those days, a handful of our customers were using the platform - and our largest client was our own company. Our team of thirty engineers was working 20% more efficiently just by using the platform and the Drupal standards it enforced. This allowed us to be more efficiënt than our competitors and also to onboard new developers faster, whilst still keeping our Drupal sites healthier than ever. Using the platform that we had initially created for our customers, we managed to grow fast without putting our operational excellence at risk. All the same, the need for a full-time CTO had become pressing.
I contacted my network in Belgium to gauge who might be open to taking up the position as our CTO. I interviewed two highly technically skilled candidates who would definitely make a good fit and I also interviewed candidates who were more of the senior management type. My search yielded no clear results. Things just didn't click for the full 100% between our interviewees and the company. That is why I decided to hire a recruiter - someone I had worked with closely before and who had already brought us some of the best talent in Europe. Back in my developer days, I didn't really like working with recruiters - they have a tendency to get rather pushy sometimes -, but Josh was different.
After some time, Josh got back to me. He had interviewed several candidates across Europe and told me he had found someone he thought would be the best fit. His candidate happened to be from Belgium - and spoke Dutch. I was surprised, to say the least. "No way,", I told our recruiter, "Who on earth did you manage to find? Did I completely miss someone during my own search?" The recruiter told me the candidate knew me and the company and that he would like to meet. "Who is it?", I asked him. "Nick Veenhof", was Josh's reply. I was surprised and excited at the same time.
As a matter of fact, I already knew Nick, but he hadn't been on my shortlist of people to get in touch with because I'd simply presumed that he was probably in a great position at Acquia, and that he would not want to consider Dropsolid as a next step in his career. As it turns out, I'd been wrong!
We decided to meet. Nick liked our vision and wanted to explore more. We kept in contact for a few months and thought things through thoroughly, on both sides. Eventually, Nick joined us as our CTO on my birthday on 8-2-2018 - one day after his own birthday, as coincidence has it.
Nick wanted to make an impact in our local market here in Europe by making digital business easy for organisations. You can read all about it in his introductory blog post as our CTO, written one month after he joined the company.
Losing great people
Besides hiring great people, we also lost a few tremendous team members. One person in particular that I'd like to mention, is our former Operations Manager. Dropsolid was having trouble to keep its budget on some projects. Several projects started to overrun dangerously. The main reason for this was the fast growth of the company and our lack of management firepower. We grew so fast in 2015 and 2016 that our project management could not keep up with results on all projects. This situation put a lot of strain on the team and on our Operations Manager. Running both operations and HR proved too much. I noticed she needed the CEO more than ever to support her. I was not able to handle all my jobs properly, and as a result I did not dedicate the necessary time to support my second-in-command.
What happened next, is a typical case that happens in business all the time. It's painstakingly accurately described in this Lullabot blog. Even while we were fully aware of this, it still happened to us and we paid the price for it. She left. Steven & I had to manage the situation: we had to cut our losses on particular projects and consolidate growth. The situation affected me on a personal level, because it truly hurts to lose someone who is so strongly aligned with our company values - especially in this case, where the expectations were on me as the CEO and where I didn't manage to deliver.
Reorganising the management team
Steven took on the role of COO and Nick came on board as our CTO. This improvement in structure changed a lot. We organised the company to be able to fully leverage our personal strengths and complement each other's qualities. Nick is a true reformer, Steven is a coordinator/supporter and I'm an inspirer/motivator. I hope to bring a certain drive by being in the trenches with the team, take the right risks and do the the right thing. Nick, on the other hand, brings logic and facts. He is a true professional. I can count on him to come up with a highly logical perspective when things get emotional. Steven brings empathy and peacemaking. He is intuitive and sensitive, the emotional core of the ship. A bit similar to Spock, Bones and Kirk!
The benefits of having a core senior leadership team that is so in tune, work like magic. We all have our battlefields where we can make an impact. I could dedicate an entire blogpost on describing the ways this dynamic benefits Dropsolid, or how much fun it is to work with these two guys.
Our management team is now composed of three extra managers. Eline is in charge as our HR and Talent Manager. Laurence is our Client Service Manager of talent services and Leen is our regional manager in Hasselt. These three strong women have proven to be a great addition to the management team and they all have their unique views. A stronger management team benefits Dropsolid in many ways. As a developer I didn't really know why we even needed managers. Over the years I've realised a strong management is crucial to make sure our teams can do their jobs without having to worry about things like finances, changing market conditions, product vision, HR, legal, procedures or corporate structure. Our management team is there to look ahead, so we can steer the ship in the right direction and keep employees and customers happy.
Building teams: going fully agile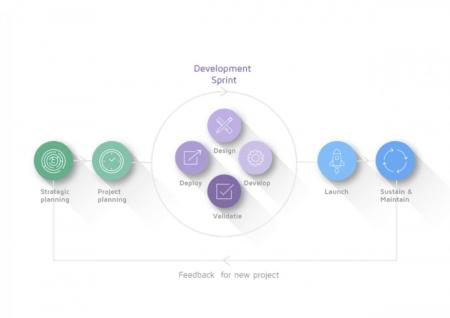 When Nick joined, we decided to face up to our project management issues. The core of the problem was that we were not working agile enough. Our teams were basically fixed-price project delivery teams. We didn't have a system in place to keep working on projects continuously.
When we started to attract bigger customers, our projects no longer simply finished. Projects just kept going instead. That is why we started to introduce agile into the company. Nick and Steven transformed the way we worked. In less than a year, we had three agile teams, a support desk and a role system running. The role system consist of developers taking on specific roles. Examples are Estimation Engineers, to make estimates on jobs and projects, Architects, to deliver stories and architectures, and Scrum Masters, who guard the scrum process that is so crucial to agile development.
Our sales teams also had to adapt. Selling agile development is not the same as selling fixed-price projects. We still sell fixed-price, but when we do, we sell it in a very structured way, so the entire project comes down to the customer buying a collection of really small fixed-price building blocks. This largely mitigates the potential risks of overrun.
The teams were immediately on board with this way of working. Introducing the sprint structure meant their workloads spiked less frequently. Overtime in the company is rare. Only very important releases or urgent Drupal security updates warrant overtime. And if it does happen, we try to make it into a bit of a party. The work-life balance of our teams improved dramatically, thanks to the introduction of agile.
HR
With 50 (and counting) employees, HR inevitably becomes a crucial focal point. During the early years, I simply thought HR was an admin job. I took several training courses myself to gain a better understanding of HR.
At the company, we took a talent manager on board as of late 2016. Eline started doing a great job right off the bat, searching for talented developers and managing our talent team (our Drupal consultants). Eline had already expressed her ambition to take up the position as HR manager in her early days with the company. We made a plan together to make her grow into the position. I wanted to avoid creating the situation that we'd had with our operations manager, as explained above.
Step by step, we managed to build an HR structure. A clear salary matrix, function descriptions, administrative flows,... We also rely heavily on tools: examples are Officient, for handling all admin, contracts and assets, and Intuo for handling engagement and employee check-ins. Having a dedicated HR manager and system allowed us to deliver more value to our employees. It enables us to bring our vision, mission and values into practice and it also helps us to win the war for talent.
In 2018, we decided to create an additional role in the HR team: the Employee Happiness Manager. The person in this role takes care of four domains that make employees happy:
Make sure the office is a nice place to be,
Handle administration and employee questions so employees are well-informed,
Sort out HR finance administration, so everyone is paid correctly and on time,
Build team spirit and find opportunities to leverage vision, mission and values into our team events.
Together with the HR manager, this role complements the team. This investments allows us to attract more talent. Investing dedicated employees on HR is much appreciated by the team.
Breaking even, generating profit and expanding
In 2017, Dropsolid managed to break even. Our fourth fiscal year was a break-even year. After two years of generating a loss due to heavy investments in growth and R&D, breaking even was a milestone. We had grown to 60 people at the start of 2018 and by that time we had invested more than 1.8M of cash in the platform. We achieved lift-off before we would run out of cash. A huge relief.
At the start of 2018 we wanted to put another assumption to the test. Would our business model be scalable? We had a team of developers in Hasselt, the capital of the Limburg region - a long way from our head offices in Ghent, especially by Belgian standards. During the day, Limburg is hard to reach, because you either have to drive through Brussels or Antwerp - two urban areas with the worst traffic jams in Europe. A 100km drive can easily take three hours. Because of this, the area kind of has its own market. We decided to invest and try to rebuild our Dropsolid model, this time from Hasselt.
The idea was to copy our SMB offering (using the Cooldrops brand name) and use it as a way in to expand and start offering our more high-end Dropsolid services.
Our regional manager had a background as a chief marketing officer and had strong roots in Limburg. We needed someone who knew the local market inside out to be able to penetrate it. We tried it out for a year, hired salespeople, gave it a good push and found out the results were not really that great. We came to the conclusion that our strategy wasn't right. Having two brands confused people. So we decided to drop the Cooldrops brand and merge everything into one brand: Dropsolid. The digital business company was born.
Catering to different needs
We went to the market with one main storyline:
Dropsolid can guide your organisation through its digital journey.


For a lot of customers our value proposition became really clear this way. We generated a lot of business using this digital maturity model. In 2018, the company grew 30%. We generated 4.5M in company revenues and we made a profit for the first time in our existence. At the same we invested 20% of our turnover in R&D. A lot of businesses were hiring us because we could help them to make their business more digital.
Notice how Drupal is less prominent in this local market positioning. The reason for this is simple: we had already established ourselves as the Drupal expert of choice in our home market. A large share of our existing Dropsolid customers who had chosen to work with us because of our Drupal skills, were now also able to benefit from our Performance Team. This team could provide them with valuable expert advice on how to create a competitive advantage using digital experiences.
Merging two brands into one coherent, smooth story that made perfect sense, came with a lot of thought. It fits our vision of making digital business easy - no matter the size of your company. We managed to receive plenty of local media attention, thanks to a large campaign that revolved around us giving away 1000 Drupal websites. Even the Belgian deputy PM, Alexander De Croo, paid us a visit us to support the initiative, launched on our fifth company anniversary.
Digital Maturity Model explained
Allow me to explain our digital journey roadmap and the corresponding digital maturity levels.
Cooldrops, which was later turned into Dropsolid's Level 1, allowed us to experiment with video & social marketing, marketing automation and personalisation. We almost became YouTube famous in Belgium :).
A good deal of our customers struggle with using Drupal as a digital marketing platform. Going through the experience of running this on one of our own brands ourselves, taught us a lot. We learned first-hand about the challenges our level 1 customers face. Tying everything together is not easy. A lot of these insights were carried back to our Drupal work.
Businesses on Level 2 are ready for a basic website and marketing plan. Level 3 starts with a Drupal site based on our Rocketship building blocks, which we open-sourced:
At Level 4, we offer more strategic advice. Level 5 customers get access to the full Experience Platform. Customers on this level do not simply want to build a website - they want to create a platform that allows them to connect to every user through any channel imaginable.
We communicated this natural evolution to the local market through a series of articles on Bloovi, a leading tech news platform in Belgium. The articles below are all in Dutch:
This strategy allowed us to reach more customers than we would have been able to if we'd only put Drupal forward to our clients. The combination of Drupal, digital experience management and marketing technology is something our customers are really looking to be educated on. Our brand awareness in the local market soared, and this helped us to get on the radar and be considered the best at Drupal.
We are still looking to scale - especially internationally. We will not be able to leverage our local market strength as the go-to Drupal company as much - we learned this the hard way by trying to scale Cooldrops in Limburg, not even that far away from our headquarters. This has been a valuable lesson: we fully realised how much money and effort there is involved in scaling services to smaller companies.
We also noticed that our local competitors are usually smaller in size and that they position themselves in the market with a more limited offering. Not every customer needs all the additional value that we offer, nor are they always willing to pay for it. That is why we usually only attracted the most ambitious companies - which is great, but it also takes time. We'll still be investing in Limburg, and as of the 1st of June a new regional manager will be starting there to make the office in Hasselt grow. Only this time, we'll be using a slightly different strategy… You'll be able to read all about it in part 4 of this blog series, which should be available in a few years ;)
New innovations
Ever since we brought Nick on board as our CTO, we've been able to make some accelerated progress in building the Dropsolid Platform. As I've mentioned before, we are building and expanding our own open digital experience platform, with Drupal at its core.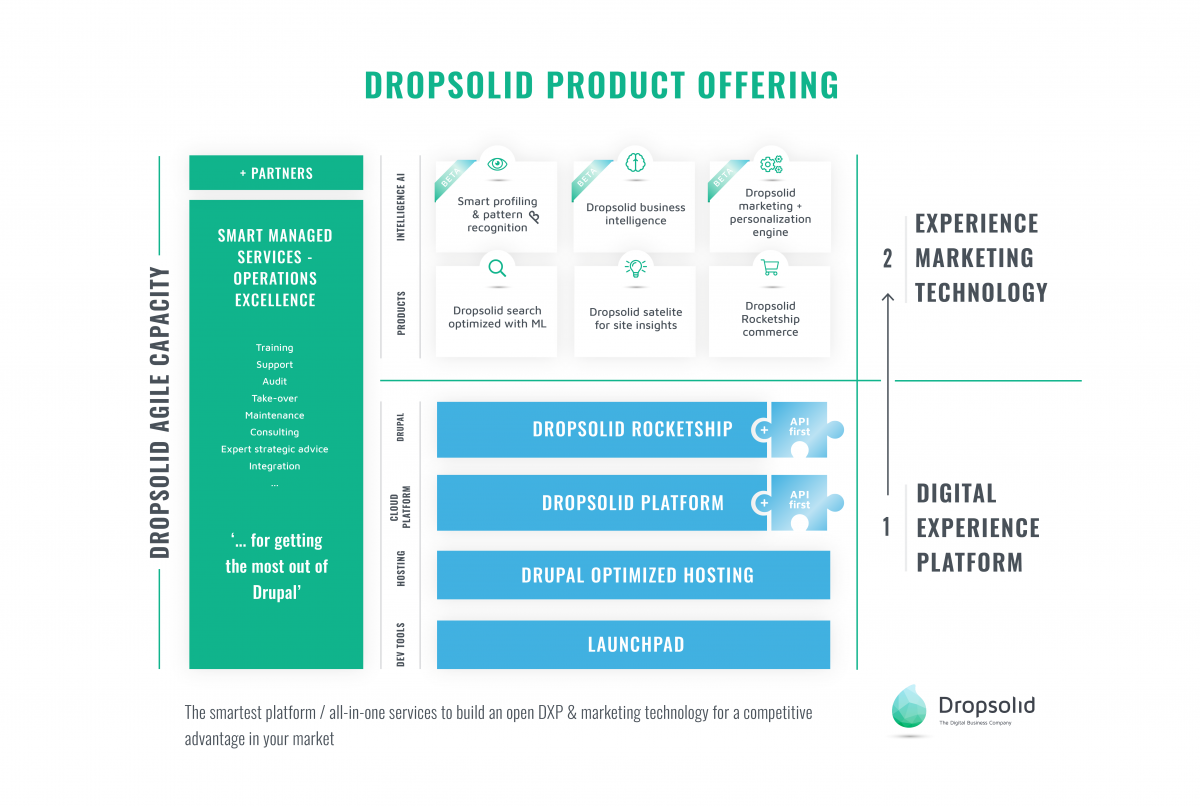 The Dropsolid Platform has matured a lot. Nick has been on board for two years now, and together with the team he has managed to turn the platform into a comprehensive ecosystem of tools that uses all of Drupal's capabilities to their fullest extent. The Platform is our opportunity to enter the international market and offer mid-sized organisations a Drupal-centred digital environment.
The Dropsolid Platform has two main value propositions, accompanied by related services. For Belgium, these services are delivered by Dropsolid, whilst we can count on trusted partners abroad for services in the rest of Europe. Our goal is to make you get the most out of your open, Drupal-based digital experience.
The core: Dropsolid Rocketship
The base layer of the Dropsolid platform consists of the deployment platform, hosting and local dev tools that allow our Dropsolid Rocketship to take flight. Rocketship is a Drupal install profile that offers an extra layer on top of Drupal. Its goal is to make digital business easy by providing a framework and best-practice examples based on real-life situations that we've experienced at Dropsolid.
The Rocketship distribution enables small to mid-market businesses and organisations to take a head start with Drupal. It provides best practices from deployment, configuration and extension.
All of Dropsolid's Drupal 8 sites have Rocketship at their core. Our junior developers learn the basics with Rocketship, while senior developers have their say in what an optimal development codebase looks like.
For customers, this means a Drupal that is easier to manage and has better SEO tooling and conversion rates. Organisations can go to market faster and deliver more long-term value, which results in higher customer lifetime value.
I'm very proud that we've been able to contribute all our learnings back to the community by means of a Drupal distribution. We want Rocketship to be the best fit for mid-sized organisations who are looking to use Drupal as their digital experience platform.
The technology layer
As an additional value driver, we offer an experience technology layer. This includes improved search, insights and commerce. Our current roadmap lists smart profiling, personalisation, automation and intelligence. Investing in AI makes me very excited! We were awarded a €250.000 government grant to explore new ways to make Drupal websites smarter.
We are now entering unknown territory, by expanding further into Europe. We started in the Netherlands by building partnerships and raising awareness to customers. Our goals is to make mid-sized enterprises aware that there is a way to have more control and freedom over their Drupal-powered digital experiences. I'm sure I'll be able to tell you more about this in a few years, in part 4 of this series.
Journey discovery
Our performance team consists of 10 people, including digital strategists, UX experts, functional analysts and digital experience solution architects. They help customers deliver value by discovering their perfect digital journey.
According to research by Gartner, 93% of all customer experience projects today yield ROI.
We use design thinking strategies to help our clients discover the best digital journey for their end users and customers and to improve the customer experience for all stakeholders. Value creation is key.
Sales & marketing teams
Building our sales team was a big challenge, especially considering the fact that we were operating in two markets. One team is dedicated to the local SMB market, and another team works the mid-sized enterprise market. It's quite a challenge to manage all of this, as the local SMB market requires volume, whilst the enterprise market needs unique strengths to be able to win.
So how does Dropsolid win deals?
In the enterprise market, we team up with agencies who require a Drupal expert. A large part of our deals come through the partner channel. We expect to invest in this more. Dropsolid offers an alternative to the full-service agency approach. Many of them offer all kinds of services and all kinds of tech, not only open source. At Dropsolid we want to give freedom to our customers. We share knowledge, open up the code base using Dropsolid platform allowing our customer to take control. This is not possible in the proprietary tech and full-service agency models.
We specialise and want to be the best Drupal expert in Europe. We want to be the best open digital experience company with Drupal at its core.
Agencies can team up with Dropsolid to win deals. We provide a solid foundation, while the agency can build on top of the Dropsolid Platform and our Drupal Dropsolid Rocketship. Running campaigns through the platform ensures quality to the customer in the form of continuity, performance and security - all whilst being future-proof. Specialised agencies are most likely to be our partners. They usually have a small Drupal team that really benefits from our Dropsolid experts. It also saves them a lot of time trying to build up their deployment platform and trying to get best practices installed. Using the Dropsolid Platform allows them to deliver value to their end customer faster.
We also win deals by trying to be the best Drupal expert in Europe. Being able to count on Nick and several highly respected senior Drupal engineers allows us to be on a different level than most agencies who just use Drupal as one of their technologies. Building the platform gave us the best possible understanding on performance, security, devops, SEO and much more.
Customers choose Dropsolid platform over traditional agencies or hosting providers because we are able to deliver at a higher level. We resolve issues that typical hosting parties and agencies are simply unable to fix. Our deep Drupal and infrastructure knowhow provides critical support to customers. This knowledge is incorporated into the platform. It enforces good development practices and standards. It also allows our customers to save on maintenance costs and time. In contrast: simple changes that are outsourced to an agency are charged at full overhead, typically making the change three to four times more expensive than it should be. The Dropsolid Platform solves this well-known problem and usually saves hundreds of euros per change request made.If you take into account that large website often require dozens of changes a year, companies can easily save tens of thousands of euros on maintenance alone.
Since most mid-sized organisations with larger websites have already a dedicated technical team, the platform saves them both time and gives the team additional ownership of their digital experience. Empowering internal teams to use the platform, they can make more impact and bring business ideas to market a lot faster. The Dropsolid Platform provides this freedom.
Our platform approach is also better for any agency involved, because their team doesn't get interrupted for small changes, so instead they can focus on the larger projects they are delivering for their customers. A true win-win situation.
We are also winning an increasing number of public tenders. Our Drupal expertise is very strong and we can deliver great value for money. We have also transitioned to becoming experts at discovering journeys for our customers that deliver more customer lifetime value. To government agencies and public institutions, this is a big win. Over the past few years, we have won several big tenders from competitors who have been entrenched in this market segment for decades. Our Drupal and digital experience expertise have made all the difference.
Several integrators in the local market have not innovated the way we've done at Dropsolid, and they are losing deals because customers want more than just a team of consultants implementing their requests. Customers want experts working on their projects and they want to learn, so they can implement changes themselves rather than having to send an invoice to their partner for every single minute of work. Digital experiences are becoming a critical differentiator and we see a lot of organisations internalising this as core business.
We also win because of open source. We believe open source is entering a golden age. Open source is mature and trusted. Large communities like the Drupal community inspire organisations to choose open source. The ecosystem around Drupal is supported by over 400 companies, ranging from integrators and agencies to platform companies.
We also believe open source will be the only way for companies to be able to take real control of their digital experiences.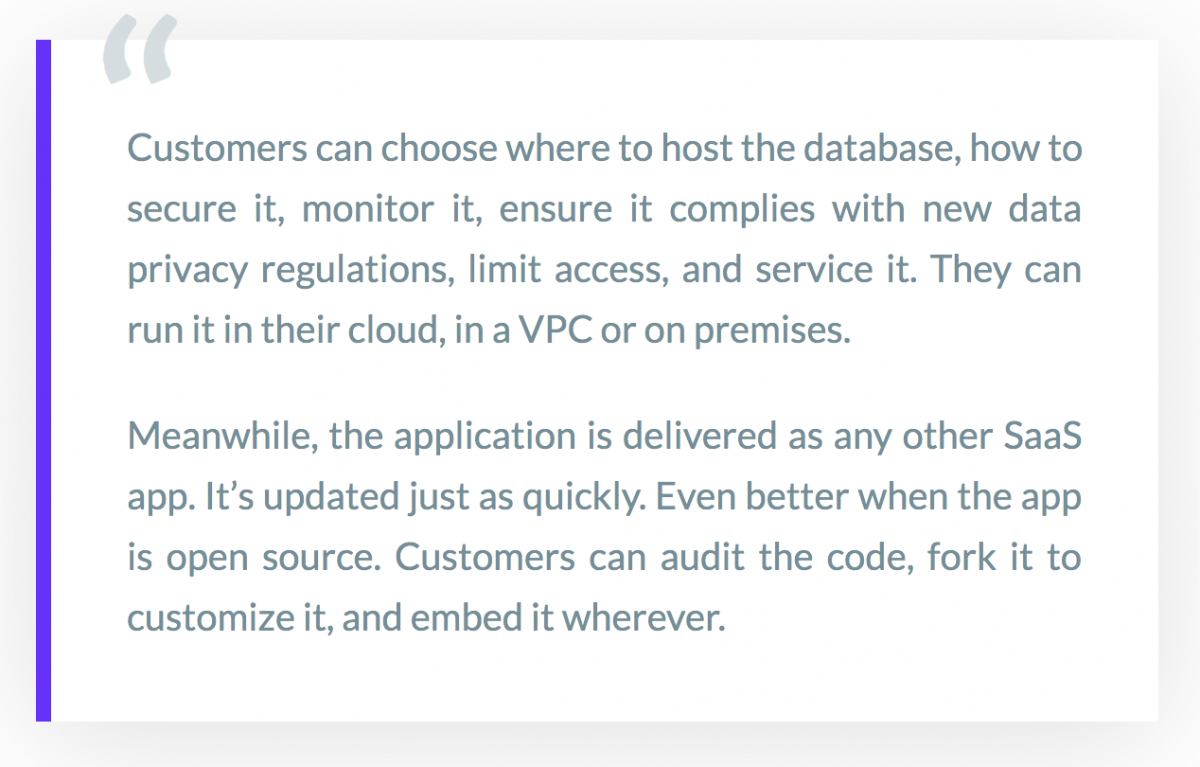 Source: https://gravitational.com/blog/open-core-vs-saas-intro/
The article above predicts the death of proprietary SaaS and promotes the open core model, including an open source main core and extra value that is delivered by the platform. We believe this model - in our case consisting of Drupal and the Dropsolid Platform - wins a lot of deals. Especially in European markets, where regulations are tighter because of the GDPR.
We'll see how this plays out in the long run. Part 4 will undoubtedly bring some answers in a few years' time...
Merging companies and the road towards the Digital Business Company
Merging Cooldrops & Dropsolid into a single digital business company allowed us to serve many markets.
2019 and beyond
I'm excited about everything that lies ahead. Our vision can be found through this link (article in Dutch).
Our focus will be on Europe, digital experiences, Drupal, CX and the Dropsolid Platform. Becoming the European open Digital Experience Company makes me very excited for what lies ahead!