Corporate website as inbound marketing platform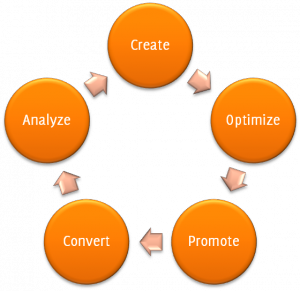 Use your corporate website as an inbound marketing platform. Learn how drupal can be used to transform a corporate website into a highly optimized inbound marketing platform with drupal. With a focussed effort we can transform your website in a lead generator, allow you to convert and boost sales.
Inbound marketing is based on the concept of earning the attention of prospects,   making yourself easy to be found  and drawing customers to your website by producing content customers value. Blogs, podcasts, video, eBooks, enewsletters, whitepapers, SEO, social media marketing, and other forms of content marketing are considered inbound marketing. This is a long term investment. Once the material is there, attention keeps coming in.
In contrast, buying attention, cold-calling, direct paper mail, radio, TV advertisements, sales flyers, spam, telemarketing and traditional advertising are considered "outbound marketing." This is a short term investment. Attention need to be bought over and over again.
Marketers "earn their way in" (via publishing helpful information on a blog etc.) in contrast to outbound marketing where they "buy, beg, or bug their way in" (via paid advertisements, issuing press releases, or paying commissioned sales people, respectively).
The model illustrates the concept in five stages:
Attract traffic
Convert visitors to leads
Convert leads to sales
Turn customers into repeat higher margin customers
Analyze for continuous improvement
In a time where advertising becomes more and more expensive, short-term and ineffective, choose the long term solution. Start using drupal to do high value marketing. Drive down advertising costs without losing any leads. By using the drupal content management system you can use your organisations content and material to attract customers. If you are real this is the way to beat your competition. They will have to buy the attention you keep on receiving for free. Your customers will see you as the only real reference. Make your clients love you.
Drupal can offer you a way to create an inbound marketing platform. The powerful drupal content management system can be used to capitalize on your companies content. Use a drupal site or drupal sites to allow your business to make its content and expertise work. Use the content as the basis of your marketing platform. Make sure you are getting found online and stay in touch with your clients.
Drupal can be used as a social marketing platform to retain customer attention and to increase customer interaction. Generate more leads with a drupal site or drupal sites as a marketing platform.
Your employees can use the content they are probably generating anyway on the drupal sites of the company. Using the drupal website they can, without any technical knowlegde add this content to the drupal website. Your corporate drupal website now becomes a marketing platform where the your employees use the content defining your business to attract new customers. Convert these leads on the drupal website. The drupal website will nicely integrate with any known analytic tools.
Functionality drupal offers (can be extended by drupal development): Blogging, content building tools, social tools, user registration, user contact, seo optimized, newsletters, video, book generation, podcasts, ...
More on this coming soon!
Who are you?
By knowing who you are you will be directed to a page where we have displayed all our drupal services relevant to your professional identity.