10 years on Drupal - part 2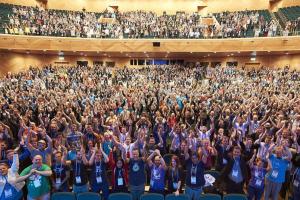 On:
Wednesday, November 29, 2017 - 11:44
Last month, I talked about my experiences wih DrupalCon and why I made my personal leap of faith with Drupal to start Dropsolid, my own digital business company. In this second part, I will explain my view on how to unify the Drupal community and the business side of things. In short:
-Drupal shops need to move out of the subcontractor zone.
-We need to unify the European Drupal market in a crafty way. This way we will change the narrative from a Drupal shop competition (race to the bottom) to a platform competition.
-Positioning Drupal as a business platform will be crucial in making it the most successful CMS on the planet.
Current market landscape
At the moment, we are in the process of helping smart marketing agencies and other Drupal Shops to use our tools to fight the real competition: proprietary platforms that do not allow the customer to build their own assets. A lot of the revenue that our competitors' customers are raking in should be either flowing our way or stay in the pockets of the customers to generate value elsewhere. At the moment, most Drupal shops are subcontractors to marketing agencies that use them because their client is asking for Drupal as an underlying architecture. Business-wise, most marketing agencies currently have greater incentives to push Sitecore, because they are able to get a part of the recurring revenue. In our case, our partners are also able to get a share of the recurring revenue if they use our platform to build the solutions.
The best advice I can give Drupal shops who want to engage with their customers directly, is to hire business analysts who can figure out the business of the customer and translate this to a solution where Drupal acts as the central platform that builds the customer experience. This way, Drupal shops can lead their customer and will be able to use their network of marketing partners to operate the system. Drupal shops don't need to transform into marketing agencies. However, if Drupal shops want to move out of the dreaded subcontractor zone, they should offer business analysis services. The advantages are tremendous. As a subcontractor, the fact that you are in a commodity business drives your price down. As a business partner, on the other hand, you don't risk losing margins, as the perceived value will always remain.
Unifying community with business
People outside of the tech sphere sometimes wonder: why are all these people so emotional about a piece of software? Business people consider a CMS to be a solution that solve their or their customers' business problems. I know quite a few CEOs of marketing agencies who tell me they don't really care about Drupal per se and that they simply use it because it is able to solve their customers' problems. They don't share the emotional connection to Drupal that many of the community members have.
During DrupalCon Vienna I had discussions with a lot of people. At DrupalCon, I always had the impression that everyone was looking to make Drupal better, in every possible way. Now that I am more in charge of the business side of things myself, I can understand better why other CEOs see Drupal as a practical solution to business problems. The customer is a driving force. A business depends on its customers. Providing what the customer wants is an important concept in running a business. Having been entirely on the community side for so many years, I can also see why community members can feel like business people are using them and are taking away the very freedom that drew them to Drupal in the first place.
The key in saving DrupalCon lies in uniting business and community.
Drupal's biggest opportunity ever
One of the biggest challenges right now is the future of DrupalCon Europe.
The core of the problem lies in the fact that the European market is not a truly unified market.
Because of this, DrupalCon did not succeed in making itself attractive enough to bring in enough customers. As a consequence, sponsors do not invest in DrupalCon as much as they could do. We were present last year to recruit developers, but we didn't meet any potential customers. Setting up a booth, sponsoring and bringing in manpower for a week costs a lot of money. Not being able to do business at DrupalCon is a large drawback. As a company we already sponsor the community as a supporting member, we organise community events and contribute knowledge on our blog by letting our developers write posts during billable hours. Since Dropsolid is a young company that needs further investment before becoming profitable, we cannot afford to attend DrupalCon simply to contribute. If DrupalCon had provided us the opportunity to do actual business, we would have considered sponsoring the event.
The biggest opportunity for DrupalCon business is to align business and community. If we do so, we can let the customers and other Drupal providers experience the feeling of connection. In doing so, we will include business owners and customers in the Drupal community. They would also feel that Drupal is a very stable bet for their business. I know this will work, because I feel both involved as a business owner and as a Drupal developer. If the two profiles can unite, we will be able to build a true connection.
On a side note, I can confirm that also as a customer of Drupal (through our Cooldrops brand), the success of our business depends on Drupal. We are delivering Drupal as a service and we need Drupal to continue to evolve to stay relevant. We are up against WordPress and they are really tough competition. WordPress is very easy to install and manage, making it really attractive to SMEs. Still, we placed all our bets on Drupal, because it will also be the platform of the future for SMEs – although we believe it will be delivered through a SaaS business model.
I've been involved on all three sides. Both as a developer, as a business owner and as a customer of Drupal, I feel connected to the CMS. We must unite business, community and customers (organisations, businesses and governments) to make them share that feeling.
Biggest threats
Any disturbances in the community greatly impact the business eco-system. Customers do read about these things - for months, the newspaper articles on the rumblings in the community were all over the internet. Things like these cause a feeling of separation: customers become suspicious and start to doubt whether they can put their faith in a decentralised platform. A united community is crucial.
Other than the fact that it makes (potential) business customers doubt, it also puts a lot of strain on the people who are responsible for uniting the community. The Drupal Association must have lost a lot of energy when stuff like this happened. The danger is that it could drive people away and burn them out. The subsequent result of DrupalCon Europe losing money at the same time also puts a lot of stress on the people who manage the event. They feel the financial burden directly. As a developer I was not aware of all these different interacting forces – I've since found out that they are a very real concern.
How to sell Drupal as a business solution
Drupal has an enormous opportunity to market itself as business solution. One of the first initiatives of the Drupal business alliance is to organize a Kickstarter campaign to raise 200K to hire an independent marketing agency that has experience in marketing enterprise software internationally. We want them to create a full campaign to market Drupal as business solution to the global market.
I strongly believe in the need for a Drupal business alliance to exist. I would hope to see it as a part of the Drupal Association in the future. Sometimes it can be best to separate the saucer form the main section. I believe this is exactly what the association is doing by splitting off DrupalCon Europe. They want to protect the Association from collapsing due to burnouts and financial risks that stem from organizing DrupalCon. I think it is a good thing. We cannot risk DrupalCon Europe to drag everything else down.
The aim of the business alliance is to unite businesses to bring Drupal to the market. Read more here on Ivo's presentation. Please subscribe if you believe we need to unite. The sooner we get to 100 companies, the sooner we can create the legal entity that is needed. The sooner the entity is created, the sooner we can start marketing Drupal as a business solution. This video already explains it and will serve as a briefing for the marketing agency.
Several solutions are being put in place to fill the gap of DrupalCon Europe, which I will explain below:
Option 1: the temporary community solution
A lot of people in the community are talking about organizing a DrupalCon by mainly cutting costs on venue, food and other luxuries. On the one hand, this is a good idea from the perspective that the community would be able to have the DrupalCon it wants where everyone can code together. On the other hand, it would make it even harder for sponsors to contribute to an event like this. Cheaper venues are not easy to reach. It would also widen the gap with the business community, as the customer issue cannot be addressed. I predict that this formula will drive down sponsor income even more and ticket prices will also be driven down as people will not be willing to pay 500 euros or more without food while having to travel further.
The financial risk for the entity organising DrupalCon Europe like this are enormous. It might be okay for one year, but I don't see it as a viable long-term option for future DrupalCons. I hope things turn out well and nobody goes bankrupt.
Option 2: The business solution (or: how to unify the European Drupal market)
The biggest issue is solving the non-unified market problem.
The business alliance is thinking in another direction. We are looking to organize a Drupal business event similar to the one that took place in Brussels in 2014 (Drupal Gov days) or in Frankfurt, earlier this year. This implies hiring a really nice venue, increasing ticket prices and increasing value. This way we'll easily attract customers. Sponsor packages will also increase. The goal is to aim at an event where we get 500-600 people. Mainly customers and businesses.
The advantages to organize an event at a venue in central location like Brussels is that we might be able to convince the EU Commission and the Belgian government – who rely heavily on Drupal - to provide us the venue for free, like they did in 2011. We would then allow the government to attend the event for free. The advantage for them is that they can learn how to use Drupal as a solution from all the other businesses and sponsors get the chance to come in to contact with the government officials.
Because the EU is already located in Brussels, we would solve the issue where potential government customers have to travel. Also, Brussels is the headquarters of lots of international companies. All these enterprise customers can be invited to experience Drupal a business solution. If they do need to travel from abroad, they would only have to visit their headquarters or satellite office in Brussels. They could use Drupal Business days as an opportunity to connect with their colleagues at a great event where we will make them feel connected with our community of businesses who believe Drupal is the platform to bet their business on. In addition, we might be able to convince the EU to provide us with additional support: I can't imagine they would want the business eco-system in the region suffer. Unifying the EU market is a key objective of the Union, and Drupal could play a big part in that.
Next to this, we would market Drupal as a business solution and make the event a key part of the strategy to explain this to them. We could demonstrate cases from companies all over Europe (and worldwide) to businesses. We could even organise business workshops with existing and potential users on how to use Drupal to build digital experiences to connect to the customers. It would be a high-value event where we could even charge up to around 300/400 euros per day to potential visitors in how other businesses across Europe in their market segment solved business challenges with Drupal. The price is a bargain. And it is an opportunity to show customer what we are all about.
Conclusion
If the business can act as a driver to make DrupalCon profitable, this would give us the required funding to sponsor our community efforts. By uniting business and community, we could win the hearts of the customers and make them connected too - trusting us to be their long-term platform. This would enable us to make them save money, grab more opportunities to connect to their customers and increase their business value. They, in return, would provide us with the financial stability to sustain our efforts.
The concept would unite developers, business owners and customers in one large community. Everyone would feel connected and know we are building the future with our open source platform. Developers could get direct feedback from their end users. We would all be working together to achieve the same goal. We could be an example for so many other businesses and organisations. The principles we are using here by uniting Drupal Europe could ultimately form the inspiration for a more connected and united world.